all photos © copyright sandyjones.com 2014

St. Simons Island, Georgia
A Natural Resort
St. Simons Island has been a popular vacation destination since native Americans shared the rich bounty of these islands hundreds of years ago. They were here when Oglethorpe arrived from England to settle Georgia as the 13th colony in 1733.

Today the landscape looks much the same, with moss-draped oaks, shady lanes and creek-fed pockets of marsh - a thriving habitat for birds and a diverse range of other wildlife, from turtles to armadillo and deer.

The soul of this island is timeless, heartfelt, graceful, spiritual, and history enriches every view. Best-selling author Eugenia Price wrote all of her historical novels here, her words emanating from this deepfelt sense of time and place.








Things To Do


Take a walk in the park where soft winds blow fresh from the sea. Generations have stood where you stand, watching for ships on the horizon while dolphins play in the surf and pelicans dive for dinner.

Neptune Park includes a playground, lots of benches for relaxing by the sea, picnic tables under the oaks, and the bandstand where events are held throughout the year. The park is surrounded by the Pier, St. Simons Library, Little Theatre, public restrooms, and The St. Simons Lighthouse and Museum. The heart of the Island is beating here!



Click Here for a panoramic view from the Pier




Whether your style is a stroll on the beach, a salt marsh nature tour or dolphin watch, the challenge of the tennis court or golf course, or the art and antiques trail, you'll find just the place to enjoy the day!

Accommodations: From moderately-priced inns and motels to resort hotels and beachfront condominiums, you'll find staying on St. Simons Island is most accommodating!





Our comprehensive Wedding Directory is a valuable resource for your wedding plans, as well as any other special event you want to have in the Golden Isles, from plants and flowers to musicians to tent rentals and formal attire, specialty gifts, and the perfect transportation to haul your group around the island. From your pre-nuptial parties to the honeymoon, you'll find just what you need to make your plans complete by using this directory, the only online directory of local shops, services and accommodations.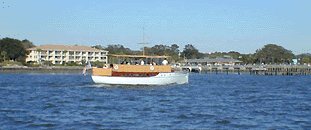 The Pier Village is the Island's historic area. Near the lighthouse and playground, you'll find specialty shops, boutiques and excellent restaurants along Mallery Street, in addition to other island shopping areas, be sure to try them all!